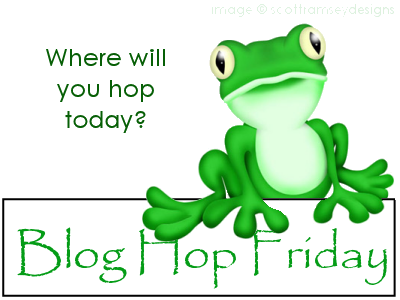 What a great day Friday is! Don't you agree? There are two great ways to meet some new bloggers and check out some awesome blogs! I had such a great time participating in Blog Hop Friday last week and can't wait to see some new bloggers this week! Blog Hop Friday is hosted by
My New Life As Mom
,
Chubby Cheeks Thinks
,
Take A Mom's Word For It
,
Bree Bee's
,
This Adventure Our Life
and
Belly Charms
! Make sure you follow all of these ladies' blog first and then have fun getting to know some of the other blogs listed on the linky at any of those sites. You can add your link at any of the host blogs and it will show up on all of them! It would also be nice if you added this cute button to your sidebar. I mean, who doesn't love frogs? This one is so cute with it's big eyes (and it's not slimy)!
I didn't make it to Friendly Friday last week, but I'd like to join the party this week! This blog hop is hosted by Christi at
Frugal Novice
, Charla at
Healthy Home Blog
, and Xenia at
Thanks, Mail Carrier
. Make sure you follow all three hostesses and then make your way through the other blogs. Leave a comment letting them know you found them on Friendly Follow and try to follow those bloggers who follow you. I love this button, too! The colors match up very nicely with my blog, don'tcha think?
Happy Friday and have a wonderful Memorial Day weekend!