** This review is for an adult product. Please use caution with children around **

I don't know about you but over the years I have struggled to find the perfect personal lubricant to use during lovemaking.
Eden Fantasys
not only sells
sex toys
but they also sell lubricants to use with those toys. My search has turned up some repeat problems such as the product being too sticky, drying out too quickly and smelling too much of chemicals. I have also been on the lookout for lubricant that can be used during foreplay, which for most couples includes some oral play.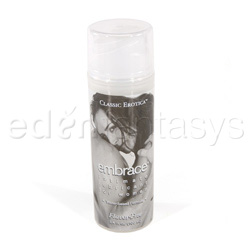 This month I decided to review
Embrace Lubricant in Vanilla
from
Eden Fantasys
to see if it is a lubricant that I can add to my list of personal favorites. One of the things that drew me to this water-based lubricant was the fact that there is no sugar in it so you can move to intercourse without having to wash off the lubricant. That always seems to be such a downer to have to stop in the middle to clean off! The other attractive feature was that it was flavored. I was really interested to see how this lubricant would taste because I've never tried a flavored lube before.
What did I think?
I'm happy to report that Embrace Lubricant was a hit! It wasn't sticky at all and it comes in a pump that really kept the mess to a minimum. I found that it didn't dry out right away, although I wouldn't recommend letting it sit for an extended period of time. The vanilla flavor was nice except after a little while it got to be slightly over sweet, but it was much better than the unflavored lube or the ones that have that chemical smell. My recommendation would be to use it sparingly because the sweetness increases with more product that you add. All in all, I think we will continue to use this brand and probably branch out to a few of the other flavors (it also comes in Watermelon, Strawberry and Pear). For $12.99 plus shipping, this is definitely a keeper!
Lubricant by Classic Erotica
This product was provided free of charge to the reviewer.
Disclaimer: I was sent a free product for my opinion. I was under no obligation to use the product or give a positive review. All opinions are my own.