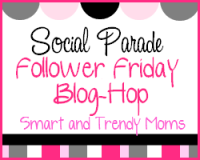 I am so ready for it to be the weekend! I've had quite the week with some personal things going on so Friday can't come too soon! Have a great weekend!
Head over to
Smart and Trendy Moms
to join this parade! Make sure to leave me a comment letting me know that you are following and I'll come right over and follow you. Happy Friday!