It just doesn't seem possible that Christmas is right around the corner. Only 2 1/2 months away? I feel like we just celebrated Christmas last week! One of my favorite things about Christmas (now that I'm an adult and don't get many Christmas presents anymore) is reading everyone's
Christmas Cards
. I love to see all the cute kiddos that my friends have and read about how everyone is doing throughout the year. I know once I have cute kids of my own, I'll be displaying their pictures on
Christmas Cards
for my friends and family to oh and ah over.
Pear Tree Greetings
just released their
Christmas Card
line and there are some great layouts to choose from! Not only are they stylish and attractive, but they are affordable, too! You can make your own personalized cards for just about what you would spend in the store for the cards that everyone is choosing from and I think we all can agree that a personalized card is a nice way to show off your family!
I received a few samples of the cards and was very impressed with the weight of the card stock and the bright colors that are used. I think this is one of my favorites in the collection because of the modern feel and vibrant colors!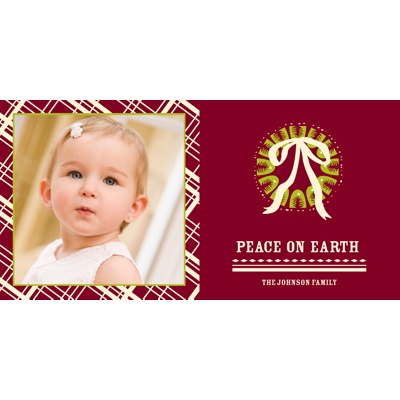 This is just one example of the options. Here's another one that's a little more traditional.
I like both of them and have seen quite a few more on the website that would be perfect for personalizing! Get over to
Pear Tree Greetings
and pick out your
Christmas Cards
. If you're anything like me, it could take a month or two to choose so make sure you have the time to shop! Enjoy!
Disclosure: I received samples for review and was under no obligation to write a review. I will receive address labels in exchange for my honest opinion of these cards.