Let's be honest here, we all go through times where bedroom activities tend to lose some steam. We don't have to let that get us down, though. I've found that a little extra "help" can make all the difference in the world.
Adult toys
can be a great way to break the monotony and get you back in the groove.
Eden Fantasys
has all sorts of different types of adult products from
sexy lingerie
to
sensual candles
. It's not all hard core stuff! Don't get me wrong, there is some stuff on
Eden Fantasys
that is not for the feint of heart but there are also products that will help you to escape from everyday life and relax and enjoy your partner in a safe, loving environment.
It's been said that pheromones play a very important role in how you feel about yourself and how others feel about you. Pheromones can be released into the air through candles which can help get you and your partner in the mood and create a romantic setting at the same time! There are candles out there that, when heated up, can be used as massage oil! Here's a great example of one of those candles: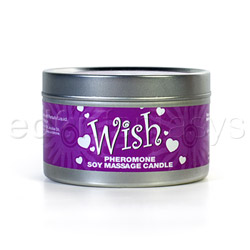 This
pheromone soy massage candle
is soy based so that when it heats up, you can drizzle some of the warm wax (it won't be as hot as paraffin based wax) onto your partner and massage it in like oil. Not only will it help to relax you, but it's also a great moisturizer and it's only $14.99! This one is a vanilla scented candle but also comes in other scents like cinnamon, strawberries and champagne as well as berry. This is just one way to add a little extra spice to the bedroom while staying within your comfort zone. There are plenty of other products at
Eden Fantasys
, though. Take a look around!