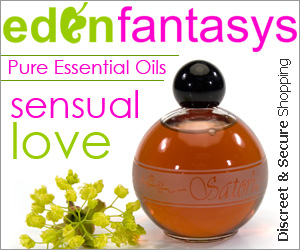 We are getting ready to celebrate our 8th wedding anniversary and it's got me thinking about some ways that I can surprise my husband. Of course, after 8 years of marriage and almost 10 years as a couple, that's not an easy feat so I'm turning to EdenFantasys for a some new ideas and maybe even a few "gifts". Since our anniversary falls on a Monday, we'll need to plan something that won't make us feel awful the next day so I love the idea of a sexy board game. My husband and I really enjoy playing board games with family and friends so why not a board game for just the two of us?
Behind Closed Doors
caught my eye because of the wonderful reviews and cute board!
Love dice
might be kind of fun, too!
Maybe that's too much work. Maybe I should just get some good smelling massage oil and romantic candles that we can light and just enjoy each other's company while we drink one of our favorite bottles of wine.
EdenFantasys
not only sells sex toys but they also have sensual products like amazing
edible candles
and sweet smelling massage kits. These products can help you reconnect with your loved one, even after 10 years together!
Disclosure: I received a gift card in exchange for my honest opinion of this website. No other compensation was received.